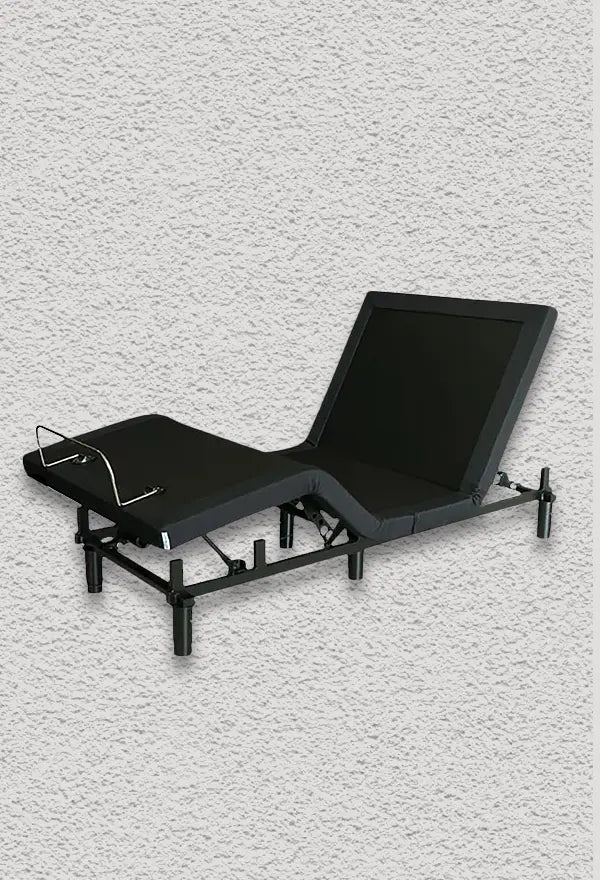 Flexi Adjustable Bed
Product USP
German-designed motors and remote control
Height-adjustable feet (38.5cm to 48.5cm) to accommodate different mattress heights
5-year warranty for frame and parts.
Relieve back pain
Alleviate sleep apnea, asthma, and snoring
Reduce acid reflux and heartburn
Ease insomnia
Improve digestion
Enhance circulation
Relieve arthritis aches and pains
Reduce leg swelling
Select: Frame, Frame with Mattress
Dimensions: N/A
Warranty
By Manufacturer: 5 Years Warranty
Description
You deserve the personalized luxury of an electric bed; it really is the last word in sleeping comfort. The Flexi Adjustable bed has two electric motors – one to raise your head and another for your feet. Using the remote control, you can adjust the bed to suit your sleeping style and health needs.
FEET UP

The feet-up position is the best way to soothe aching feet and legs. It also helps with swollen legs or feet.
HEAD UP
The head-up position is great for reading and breakfast in bed. Head-up also helps to minimize snoring and make breathing easier.
ZERO GRAVITY
This knees-raised and head-raised position helps with back pain. It's also a relaxing position for watching TV and reading.  If you struggle to get in and out of bed, this position can help.
FLAT
Flat is best if you like to sleep on your side. You can make small adjustments to decrease pressure on your hips.
Designed specifically for use with the Flexi Adjustable electric bed, we will provide the mattress that gives you 30cm of luxury support that adjusts perfectly to any electric bed position.