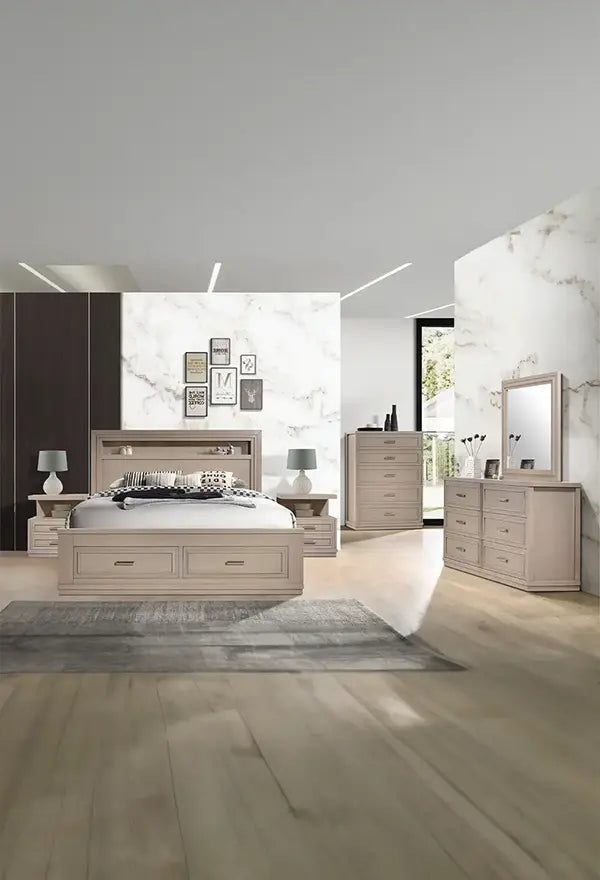 Lithia Bedroom Suite
In Stock Sold Out Unavailable
Included in the Suite
1 x Queen/King Bedframe
1 x Tallboy
1 x Dresser Mirror
2 x Bedside
Warranty
By Manufacturer: 12 Months Warranty

Description
LITHIA Bedroom Collection – an ideal addition to any bedroom. This suite showcases sleek lines and transitional hardware, embodying rustic simplicity at its finest. Crafted in homestyle barn wood with a tribute to rustic finishes, it effortlessly transforms your space into a chic and fashionable haven. Elevate the charm of your bedroom with this collection, where the grey finish infuses warmth and modernity into any bedroom setting.
A range of storage solutions for both your bedroom and living room empowers you to select the perfect aesthetics and functionality for your home. With the flexibility to choose from a wide array of upholstery fabrics and timber stains, you can truly personalize the LITHIA to match your unique bedroom style. Whether you need a bed frame, dresser, or bedside table, our collection offers multiple options, allowing you to curate the perfect suite for your space.

Features: Engineering wood. Rustic' look and feel-interesting wood-grain, knots, etc. Classic grey finish. Panel headboard. Dust proofing. Queen size.