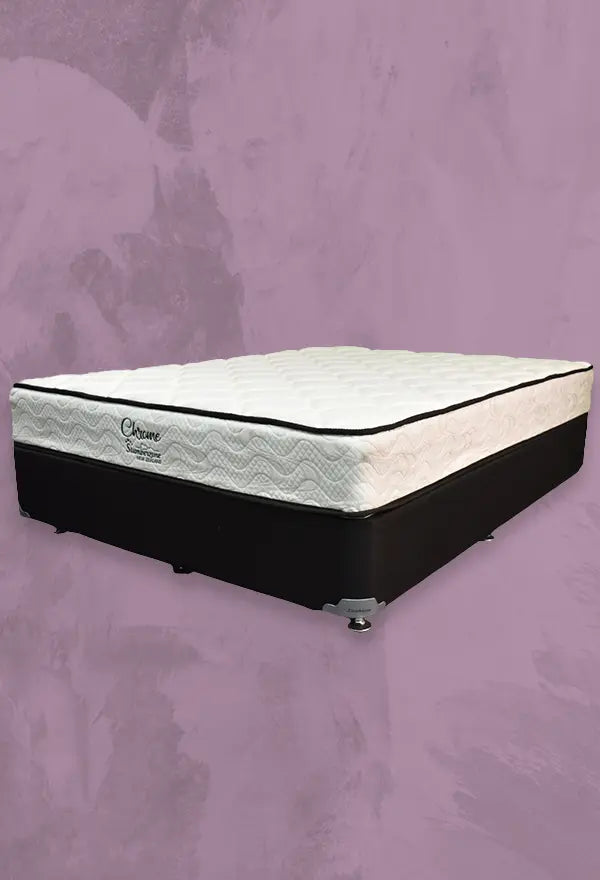 Slumberzone Chrome Mattress & Base
Product USP
Time tested Bonnell Springs
Layers of Premium Hard Density Foam
Quality Designer Knitting Fabric
Value, Cost Effective
Durable
NZ Pine Base
Material: Fabric, Foam, Continuous Spring
Weight: 90 kg
Dimensions: 203 × 153 × 23 cm
Comfort Level: Medium Soft
Material: Inner Spring
Description
Slumberzone Chrome mattress & base offers outstanding comfort throughout the night by providing the perfect combination of comfort and support.
With its hourglass-shaped Bonnell springs, the Chrome provides even support over the entire sleeping area. Your support and comfort are further enhanced with a layer of high-density foam, providing a layer of gentle support. Our Chrome mattress is finished in a soft-touch micro-quilted knitted fabric adding a final touch of comfort and coziness.
Create the foundation for a comfortable sleep with the sturdy NZ Pine Bed Base. In stylish charcoal or light grey color, this quality New Zealand-built bed base offers premium support and must-have durability. Complete with glides for simple positioning, this bed base brings you the ultimate in-bedroom appeal with the comfort you're sure to love.