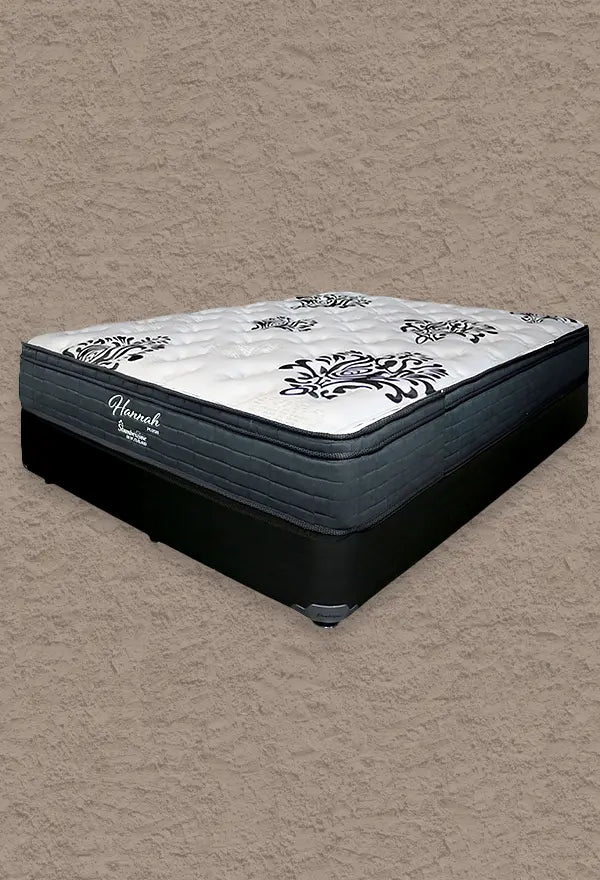 Slumberzone Hannah Plush Mattress & Base
Product USP
22cm 5 Zone 9 Turn Posture Pro® Pocket Springs
360°Foam Casing
High Grade Designer Fabric
High Density Foam
Comfort Level: Soft
Material: 5-zone Pocket Spring
Cool Gel Memory Foam
Warranty
10 Years Quality you can trust… guarantee it!
Description
Slumberzone Hannah Plush Mattress & Base is made with 20cm 5 Zone Posture Pro Pocket Springs for high end body support. Equalized pressure points with 360°Foam Casing to distribute and ease tension throughout the body. Added Comfort Layers of High Density Foam for added Firmness & to maximize Correct Posture.
HIGH GRADE DESIGNER FABRIC:- Finished with High Grade Designer Knitting Fabric & soft fibre quilting foam for a plush feel & stylish look.
360º FOAM:- Total Edge Support with 360º foam spring encasing to prevent the mattress edges from sagging and prevents the sleeper from rolling off the bed.
HIGH DENSITY FOAM:- The High Density foam cell structure provides a more stable and even surface for those who require extra support, for eg. in the lumbar region, which allows for a better oxygen intake & improved circulation.
5 ZONE POSTURE PRO POCKET SPRINGS:- 22 cm 5 Zone Posture Pro Pocket Springs for world class body support. The springs adjust with the body movements ensuring proper spine alignment & dynamically conforms to body contours.